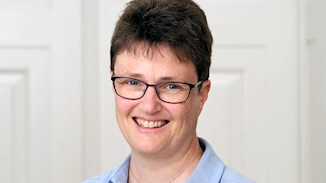 Kontakt
Heather Boyd, Seniorforsker, Epidemiologisk Forskning / Infektions- og cancerepidemiologi
T. 32688187 @. hoy@ssi.dk
Research Areas
I run a research program that combines my two main interests, the epidemiology of pregnancy complications (chiefly preeclampsia, but also pregnancy loss and preterm delivery) and cardiovascular and renal disease epidemiology. My research group, which at any given moment includes MPH students, Ph.D. students, post-docs, medical students, and one or more statisticians, works on a range of register-based, laboratory-based and genetic epidemiology studies.
Areas of Research and Projects
I am principal investigator of the:
PEACH (PreEclampsia, Angiogenesis, Cardiac dysfunction, and Hypertension) study, a study seeking better ways to identify preeclampsia subtypes based on biomarkers and cardiac function measurements and to identify women and children at greatest risk of cardiovascular, kidney and neurological disease following preeclampsia.
Danish part of the EPOCH (Effect of Preeclampsia on Cardiovascular Health) Study, a study that is using proteomics and metabolomics to identify groups of biomarkers that predict increased risk of cardiovascular disease in women who previously had preeclampsia.
Pregnancy Profiles, Placental Pathology, and Postpartum Repercussions of Preeclampsia (P5RP) Study, a study that is using machine learning and artificial intelligence methods to identify groups of maternal traits (clinical features, hemodynamics and blood biomarkers during pregnancy, signs of placental pathology, postpartum blood pressure control) that predict early stages of cardiovascular and renal dysfunction with a decade of a pregnancy complicated by preeclampsia.
Biological Signals in Pregnancy Study, a study of using proteomics, metabolomics, transcriptomics and cell-free RNA studies to map the changing biological processes that occur during pregnancy.
I am also on the Executive Committee of the Copenhagen Baby Heart study, a population-based study with cardiac echocardiography on 25,000 newborns that we are using to study the effect of maternal pregnancy complications on offspring cardiac structure, function, and development.
International Collaborations
Identification of clusters of maternal factors that predict cardiovascular and renal dysfunction within a decade of a pregnancy complicated by preeclampsia, with Dr. Christoffer Nellåker, Big Data Institute, University of Oxford, UK; Professor Basky Thilaganathan, St. George's University Hospital, London, UK; and Dr. Kelsey McLaughlin, Mount Sinai Hospital, Toronto, Canada
Incorporation of pregnancy complications into risk scores to evaluate cardiovascular disease risk in women, with Professor Padma Kaul (University of Alberta, Canada), Prof. Basky Thilaganathan (St. George's University Hospital, UK), Prof. Lucy Chappell (King's College London, UK), Fergus McCarthy (University College Cork, Ireland), and Prof. Annemarie Hennessy (Western Sydney University, Australia)
Identification of multi-'omics' signals that predict heart attack and stroke in women who have previously had preeclampsia (EPOCH Study), with Professor Mark Hlatky and Dr. Virginia Winn, Stanford University, USA
Applying machine learning and AI methods to register data to understand mediators of longterm cardiovascular disease risk in women who had preeclampsia or gestational diabetes, with Professors Padma Kaul and Russ Greiner, University of Alberta, Edmonton, Canada
Patterns of postpartum anti-hypertensive treatment immediately after pregnancies complicated by preeclampsia and gestational hypertension and the risk of later chronic hypertension, with Professor Basky Thilaganathan
| | |
| --- | --- |
| Education | |
| 2003 | PhD in Epidemiology, Department of Epidemiology, Emory University, Atlanta, USA |
| 1996 | B.Sc. (Hons.) in Microbiology, Department of Microbiology, University of Alberta, Edmonton, Canada |
| | |
| | |
| --- | --- |
| Employment | |
| 2011- | Senior researcher, Department of Epidemiology Research, SSI |
| 2004-11 | Researcher, Department of Epidemiology Research, SSI |
| 1999-2004 | Guest researcher, Division of Parasitic Diseases, Centers for Disease Control and Prevention (CDC), Atlanta, USA |
Professional Activities and Leadership Positions
Member, Management Team, Department of Epidemiology Research, SSI
Member, Executive Committee and Steering Committee, Copenhagen Baby Heart Study (prospective population-based study of cardiac structure and function in 27,500 newborns) (baby-heart.dk)
Supervisor of MPH and PhD students, medical students, and post-docs
Prizes and Honours
2019
Hallas-Møller Ascending Investigator Award (Novo Nordisk Foundation)
2015

Added to the AcademiaNet Expert Database for Outstanding Female Academics (www.academia-net.org)

2014
Recipient of DFF-YDUN (Younger women Devoted to a UNiversity career) grant for research talents